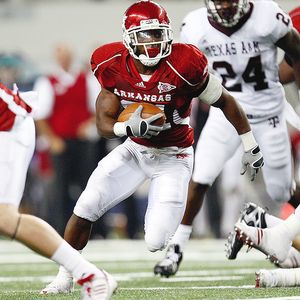 I don't take plays for granted because we have so many more weapons this year, Smith said. We've got a lot of quick-strike guys. You never know when somebody's going to score, so you better do something with it when you get the ball.
Smith, who carried it 207 times for 1,072 yards last season, concedes that he's become more of a situational player in this offense.
Coach Petrino is more of a situational guy, Smith said. He has his plays he's going to run on third-and-short and third-and-long and the person he wants to use. I know once we get inside the 10- to 15-yard range, that's no longer my zone. He wants to use that for bigger guys. I have to capitalize outside that range.
I'm not the every-down back I was last year in this offense, because we've got more guys. But I knew that's the way it was going to be and was prepared for it. It's been a little bit of an adjustment, but not too bad.
I've been at this now for five years. I know I've got to keep my body in order. But I hope to make this second half of the season a memorable one personally and especially for these Arkansas fans, who've been so good to me. [read more]