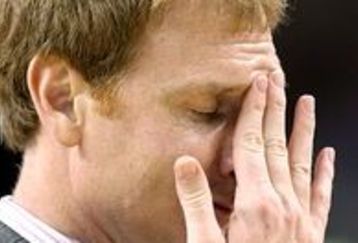 Arkansas basketball is having a hard time getting off the ground to start the 2009-2010 season. The Razorbacks are 2-3 coming off of losses to Morgan State and East Tennessee State. There are no excuses or positive spins to make following these losses to two teams that many Arkansas fans may mistake for exhibition teams.
As one who always works to rally the troops and show the glass as half-full I have to admit one thing; Hogs you are making my job almost impossible.
I have worked to put the spotlight on the newcomers playing well on this struggling team. I have written stories on the great newly signed 2010 recruiting class , and the great prospects of the 2011 class , and I will continue to do this very same thing because I do believe there are many signs that things are heading in the right direction.
But lets make no mistake this current Hog team is in a bad place, and the only people that can change anything is themselves, and unfortunately the Hogs are doing more than just losing games-they are losing fans, and fast.
John Pelphrey has worked very hard since arriving on campus and he has faced difficult odds since the day he took the job, but on a regular basis so far this season his team has been out-rebounded, outsmarted, and all around out-played. They have shown great effort, but more times than not they have been out-hustled by the opposing team. [read more]