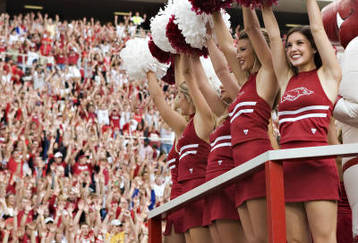 The Arkansas Razorbacks prepare to face the East Carolina University Pirates Jan. 2 in the Liberty Bowl.
The Hogs players and coaches in year two under Bobby Petrino, did a good enough job to earn their bowl berth and have provided their fans with an exciting season of football.
Now the Razorback fans have rallied and shown their support by selling out their ticket allotment for the Liberty Bowl.
The original allotment was 12,000 tickets, which was almost immediately raised because of high demand.
The new allotment of 25,500 being sold so quickly has impressed the Liberty Bowl representatives and is sure to get the attention of other bowls for future consideration for the Razorbacks.
Most recent accounts have the Hogs outselling ECU by around 2 to 1.
The 25,500 are only the tickets purchased through the University. Razorback fans purchasing tickets through the Liberty Bowl website or other venues will be in addition to this number.
According to coach Bobby Petrino and the Razorback website, the Hogs already have three "home" stadiumsDonald W. Reynolds Razorback Stadium, War Memorial Stadium, and also claim Dallas Cowboys Stadium. [read more]