The entire state of Arkansas is bursting at the seams in anticipation of Tuesday's night Allstate Sugar Bowl.
Arkansas will play in its first-ever BCS bowl game, taking on perennial powerhouse Ohio State.
Bobby Petrino, in his third season as Arkansas' coach, is confident that everything is in place at Arkansas for the Hogs to also be a perennial contender on the national scene. If not, he never would have signed his new contract that essentially locks him in at Arkansas for the foreseeable future.
Bobby Petrino has led the Razorbacks to their first BCS bowl appearance.
He'll earn an average of $3.56 million over the course of the new seven-year deal with an $18 million mutual buyout in 2011 and 2012. The buyout goes down some each year, but it's still more than $10 million as far out as 2015.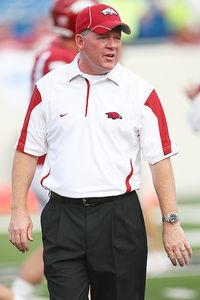 The translation: Petrino may have been branded as a coaching nomad in the past, but he's found a home.
"It's a great feeling. I'm really happy that Dr. [David] Gearhart and [athletic director] Jeff Long have the confidence in me to make that commitment to me and my family," Petrino said. "And, really, I wanted to make the commitment, not only to them, but to the state of Arkansas and make sure the people who support our program know exactly where I stand. "I don't want my name coming up every December and January when other jobs come up. I want them to know that I'm at the University of Arkansas and I'm a Razorback through and through, and that's not going to change."
With his biggest game yet looming and half the state of Arkansas partying it up on Bourbon Street, Petrino took some time this week to discuss where the program is right now and where it's headed: